The month of love is finally here and the countdown to Valentine's Day is officially on. Whether you're coupled up or single and loving it! We have a range of outfits and plans to help you start your weekend right by  yourself,  with your friends or significant other.
Night In:
If you're looking to unwind with a Netflix series on, popcorn and tub full of Ben & Jerry's… Or maybe you're wanting to indulge in a soothing bath with candles, bath salts, a book and face mask (not forgetting a glass of your favourite bubbly!) Why not do it in the best way possible?!
Head over to Boots and Superdrug for all your relaxing beauty essentials. From premium bath salts, facemasks and more – you'll be giving yourself and skin a treat you deserve.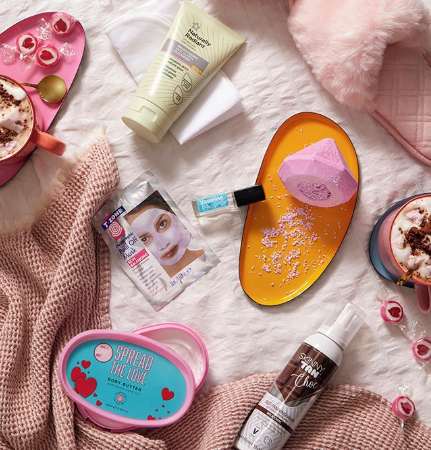 Give your skin the treat it deserves with Superdrug's range of beauty products. 
Whatever self-care looks like to you, get extra comfy and enjoy your company in the cosiest of outfits like this pyjama set from River Island.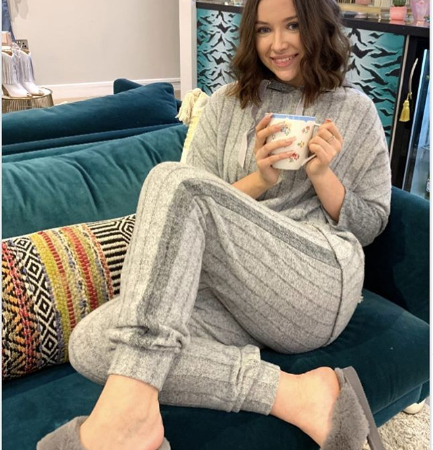 Date night options
Looking for that date night outfit that'll cause your significant other's heart to go racing? We've picked our favourite go to outfits that are perfect for a sit down meal, comedy night out or even a concert with bae!
We love this classic little black dress from New Look, wear with boots in the day and swap for heels for the night. Pop some red lipstick and make sure it's all kissed away by the end of the night… 
If you're looking for something a little more colourful, how about this River Island Women's Pink Suedette fringe cropped jacket, add your favourite floral top and some of River Island's Gold metallic cross strap heeled sandals and you'll be good to go.
If you're looking for a more refreshing style, then you'll love this Green Floral Print Wrap dress from Wallis ( found in Debenhams). 
For the gents, you can look the part that'll make your date's heart flutter like this outfit from River Island.
If you're looking to mix a bit of smart with a bit of casual why not mix and match your favourite H&M checkered shirt, chinos and formal shoes or trainers. Whatever the occasion, you'll certainly look the part.
[Products subject to availability
Photo Credit: Wallis – Debenhams, Styleidealist, H&M, New Look, River Island, Amar_DP]
Pizza never looked so guilt-free…
Check out the updated range of feel good Flatbreads at Pizza Hut Restaurants. Pizza Hut have partnered with WW (WeightWatchers Reimagined) to SmartPoint® their Flatbread Pizzas – All of them clock in under 550 calories and starting from 11 SmartPoints®
Ham & Garlic Mushroom – Tomato sauce, mozzarella, spinach, ham, garlic mushrooms, closed cup mushrooms and rocket.
BBQ Steak 'N' Chicken – BBQ sauce, triple cheese blend, shaved steak, chicken breast, flame roasted peppers & onions, BBQ drizzle and rocket.
Tuna & Sweetcorn – Tomato sauce, mozzarella, tuna, red onion and sweetcorn with a drizzle of ranch dressing and topped with rocket.
Virtuous Veg – Tomato sauce, mozzarella, spinach, mixed peppers, red onions, mushrooms and cherry tomatoes topped with rocket.
Chicken Delight – Tomato sauce, mozzarella, chicken breast, sliced mushrooms and red onions topped with rocket.
Live Date: 1/02/2020
End Date: 29/02/2020
T&C's: Terms and conditions apply, see in Hut for details. Price varies per Hut. Photography for illustrative purposes only. Products subject to availability. Pizza Hut Restaurants reserve the right to remove or amend this promotion at any time and without prior notice.
New Year … New me. We've all been there and tried that. This year we decided to kick start our year with a challenge that not only helps us into making healthier life choices, but also encourages us to be positively aware of the decisions that we make and the effects on the environment around us.
To make the most of #Veganuary, we've rounded up our favourite vegan friendly meals and snacks from our local restaurant and Cafés .
If you fancy a twist from your usual lunch break options, why not head over to Costa Coffee and try their new Vegan Smoky Ham & CheeZe toastie. Filled with Quorn vegan ham, the toastie is jam packed with flavour and it'll leave you going back for seconds.
If you fancy one of their hot drinks, don't forget you can now add Coconut, Almond or Soya dairy alternatives with no extra cost*.
Head over to Starbucks if you fancy a wholesome Vegan All Day Breakfast Burrito. You'll find the spinach tortilla filled with smoked scrambled tofu, layered with tomato, chipotle beans, spinach and mushrooms.
If you love Mac 'n' Cheese as much as we do, then you'll love this Vegan Mac made with macaroni with vegan butternut squash sauce, spinach and parsley crumb. We really can't resist!
And if you love a good slice of pizza, try the new Vegan Pepperphoni Pizza at Pizza Hut, made from pea protein just for Veganuary.
Following the massive success of the Greggs Vegan Sausage rolls, the highly anticipated Vegan Steak Bake has now launched at Greggs. Made with Quorn pieces, diced onions and gravy filling, you can now get your hands on a wide variety of your favourite pastry dishes on the go at Greggs.
[Photo Credit: Costa Coffee, @Sophie.Bullimore.
T&C's apply for Costa Coffee hot drinks with dairy milk alternatives
Vegan All Day Breakfast Burrito is subject to availability.]
Greggs has today launched a follow up to its Vegan Sausage Roll amid weeks of speculation of what the new menu addition will be
Greggs has finally put an end to months of speculation by confirming the drop of its Vegan Steak Bake which hits shops today.
The leading food-on-the-go retailer has been tantalising Greggs fans in the build up to the vegan friendly launch, including a short video on its social media channels in December which read; "Believe the hype…Greggs x Vegan…dropping January 2020."
The new Vegan Steak Bake means that the UK's vegans, flexitarians and Meat-Free Monday advocates can enjoy an alternative to one of Greggs' iconic menu items.
The Vegan Steak Bake has been created to mirror some of the original Steak Bake's classic features, including 96 layers of light and crisp puff pastry, but instead is made with Quorn pieces, diced onions and a gravy filling.
Greggs' Vegan Sausage Roll launched in January 2019 to critical acclaim – becoming one of its fastest selling products of the last 6 years.
The Greggs product development team has been working for months on the Vegan Steak Bake recipe, recruiting a whole panel of vegan and non-vegan taste testers to ensure its flavours hit the spot.
Roger Whiteside, chief executive at Greggs, said: "Our Vegan Sausage Roll launch was a huge success and we've been working tirelessly to expand our vegan friendly offering and provide more delicious savoury food on-the-go options for people looking to reduce their meat intake.
"The launch of our Vegan Steak Bake is another key milestone on our journey to become our customers' favourite for food-on-the-go. We look forward to hearing the feedback."
To celebrate the new addition to its vegan friendly range, Greggs also held an exclusive preview event at its Grainger Street shop in Newcastle-upon-Tyne last night (New Year's Day). One thousand fans were given the opportunity to enjoy a first taste of the Vegan Steak Bake before the rest of the country with limited edition packaging also given away to the first 200.
The Greggs Vegan Steak Bake will be available from £1.55, initially across 1,300 shops from January 2nd and rolling out to a further 700 shops on the 16th January.
Greggs has also launched a Vegan Steak Bake finder to make it easier for customers to track down their local shop which goes live from 10.00am on 2 January – https://greggs.co.uk/vsb-locator.
From Frozen 2 inspired apparel, costumes and accessories, to the movie itself! We can all admit our excitement for the highly anticipated animated movie of the year!
In celebration of Frozen 2 movie debut, we'll be looking at the top Frozen 2 inspired gifts you can find here at Monks Cross. Add these special gifts to your shopping baskets for your little ones to enjoy.
Style your little ones for the exciting journey beyond the gates of Arendelle with the cosiest jumper of all,  guaranteed to keep them cosy and melt your heart at the same time. You can find this Olaf endowed jumper from Primark for £10.

You can top the look off with Clarks Shoes x Disney's Frozen range of kids wear. Shield your little ones from the cold this winter with the latest Frozen boots and trainers suitable for any adventure.
If you love trainers then you'll love Schuh's Frozen All Star Converse stock. Watch your little ones unleash their stylish-storm in these Elsa and Anna adorned Chuck Taylor Converse.
Those looking for a little Olaf flair wouldn't want to be without this Disney Frozen, Ceramic Olaf Shaped Mug from Debenhams. Shield your little ones from the cold weather with a nice warm beverage in this special mug.
At Game, there's plenty of adventure for your little ones to jump into. Join our beloved happy go-lucky snowman on his quest through perilous situations on Nintendo 3DS.
Or if you prefer a good bedtime story, why not join Olaf' in this heart-warming tale as he searches for the perfect festive tradition to treasure forever.
Whatever the season, there's always plenty of reasons to gift your loved ones. With the release of Frozen 2 looming ahead, why not showcase your Frozen 2  look in style. There's plenty of Frozen 2 product finds at Monks Cross, come and visit our stores and find your best picks.
[Products subject to availability. Photo Credit: Debenhams, Primark, River Island, Game, WHSmith, Schuh, Clarks, KZ]
Have you heard?! Sleek MakeUp have introduced their NEW Major Morphosis holiday collection.
Collection includes:
• Major Morphosis eyeshadow palette
• Solstice Hemisphere elixir
• Two lip lacquers (coming soon)
• 2 lip strobes (coming soon)
Subject to availability at Boots.